Walking the Dog: From Winter Chore to Warm Pastime with Heated Apparel
Walking the dog—it's an activity we see on Instagram stories and often when we look out the window. Of course, mild weather makes walking the dog a much more pleasant affair. But what happens when the temperature drops, and dare we say it, snow clogs the sidewalks? 
For most people the answer is shorter walks so you can hurry back into the warmth of your home. What do our furry friends think of this? Obviously we can't read dogs' minds (yet) so we don't really know, but the chances are, your buddy misses the longer strolls. 
However, most people outside of the world of X-Men can't control the weather. So how do you make sure your furry pal is getting the walk-time they need without you freezing the whole time? 
Take Heat To-Go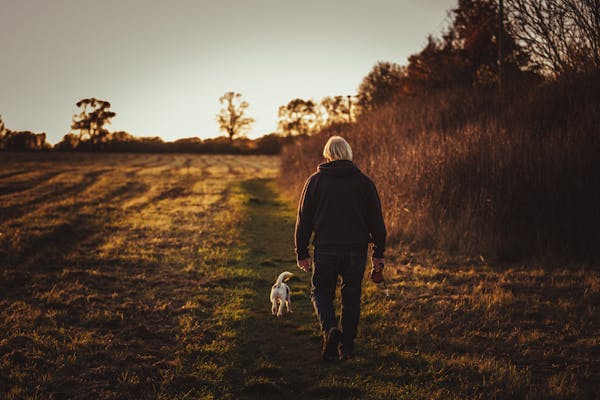 You could bundle up in every coat, scarf, and hat hanging in your closet, or you could charge up one garment and call it a day. With heated clothing, there's no need for the unnecessary bulk of one too many layers to stay warm. 
All you need to do is make sure your battery is charged, power up your gear, and then hit the sidewalk. With up to 10 hours of consistent warmth, you no longer have to cut walks short. Take longer walks and enjoy the fall leaves with your dog. Maybe they'll jump in a pile or two, which is just as entertaining for you as it is them. 
When it snows, your dog will love the extra time spent outside frolicking in the snow. Even more important, your pal will love that this activity is spent with you, their best friend. Of course, they won't know that heated clothing is to thank for the extra time together, but that's okay. 
Finding the Right Option for You
Luckily, heated clothing comes in many different styles. You can't go wrong with a heated fleece or jacket. Maybe a heated hoodie is better for you so you can wear it seamlessly indoor and out. Or perhaps a vest is best so you can have more control over how you choose to layer. Maybe you decide heated gloves and socks are necessary for your chilly extremities. 
"Jacket works great and kept me warm at the dog park in the morning."
- Dave S.
Whichever option is right for you, one thing is clear: heated apparel is the ideal choice for making sure you aren't skimping on walk-time with your best friend! As a bonus, it'll help keep you more active during those sluggish winter months, so you won't feel the need to hit the gym quite as hard for that summer bod.