How to Create a Backyard Heated Oasis
This year, we're unable to go to some of our favorite cozy winter spots. However, that doesn't mean you can't make your very own winter oasis in your backyard! There are several ways to turn your space into the cozy, safe and socially-distanced, and warm winter wonderland.
Fire Pits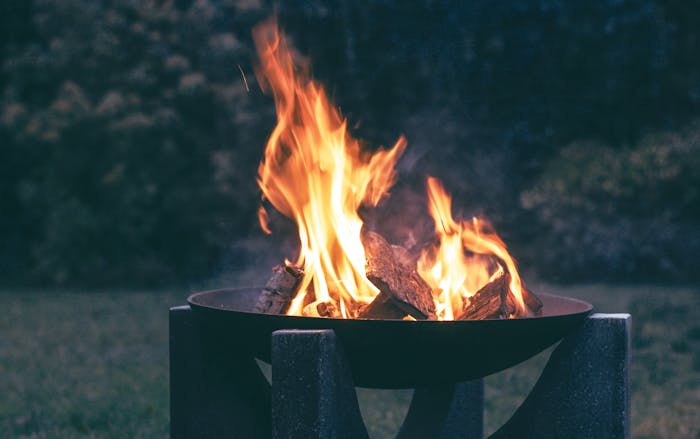 There's a good chance many may already have this feature in their yard. Fire pits are a classic way to bring the warmth during chillier months. The warmth of the fire fights off the cold, so you can spend some quality time with close-knit friends and family. 
Chiminea
For some, fire pits may not be a good option. This is especially true for renters. Since fire pits can be heavy and require installation, it's just not viable. However, chimineas are a great substitute. 
They are essentially mini fireplaces that you can move around as you please. No permanent installation required! And, you still get that cozy warmth from the fire. 
Heated Apparel
Sitting near some flames is an age-old way to stay warm, but sometimes it's just not enough. With battery-powered heated apparel, you can wear the warmth and take it with you wherever you go. 
Jackets, vests, socks, gloves, hoodies—you name it. Heated apparel is the modern way to stay warm.
Heat Lamps (Or Just Regular Lamps)
Heat lamps are a restaurant patio favorite, and for good reason. They work. Since you probably can't go out to your favorite eateries this year, bring the vibe home! Heated lamps are easy to set up and move around so you can place the warmth where you need it most. 
Not only do they light up the early nights, but they produce a solid radius of warmth. If heat lamps aren't in your scope, then regular lamps can still add some ambiance! Think: Hanging lanterns and string lights.
Outdoor Rugs
So you've got the heating aspects covered, now it's time for finishing touches. 
Outdoor rugs are a great way to add coziness to any backyard oasis. Search for some soft and fluffy winter options to get the ultimate cozy vibe.
Throws and Blankets
Of course, no oasis would be complete without blankets. The best part is that most blankets sold during winter are super soft and crazy fluffy. The perfect addition to your rug. 
Even though you've already got heated apparel on and a fire going, there's nothing more comforting than wrapping up in a fuzzy blanket.
Cozy Candles
Although they may not throw out a ton of heat, lighting some candles in your backyard oasis adds to the ambiance. Just be sure to keep your blanket away from the flames!
Hot Beverages
Last, but not least, hot beverages are the cherry on top of a perfect backyard winter oasis. 
Classics like hot chocolate and peppermint tea are always a good choice. For the adults, maybe a hot toddy. Make it even more fun by heating your milk for hot chocolate over the fire. 
If you want to make it a family affair, set up a fun hot chocolate station with different add-ons to choose from. 
Just because winter has finally arrived, doesn't mean you need to resign yourself to being locked away inside. Create your perfect winter oasis right in your backyard! The best part is the memories that are sure to come with it.